New Fresh Look
As the days heat up and school lets out, don't forget we are your not-so-secret gift shop for teacher gifts, weddings, birthdays, showers, graduations, goodies for the cottage and more!
Psst... we have a big deal for you. Beginning June 1st through the 6th all soy lotion in our old style large metal pump bottles and clear 2oz. travel bottles will be half off - while they last! We will be clearing out other miscellaneous products too.
On Saturday, June 6th, from 12 to 4pm we will be donning the store shelves with our new re-branded "All Grown-Up" Green Daffodil core line. After 8 years we felt it was time to update our look. We think it's in keeping with our original packaging, just a little more refined. You are invited to check it out and enjoy a few treats and some punch! We would be remiss not to mention that we have many new products in the shop to keep our gift selection fresh for you to explore!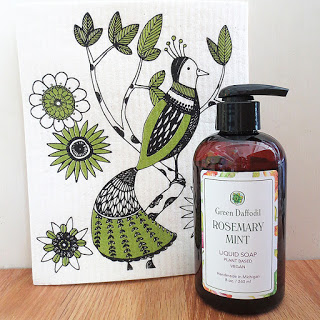 The following weekend we are setting up camp at the 14th Annual Berkley Art Bash, Saturday June 13th booth number 37. It's sure to be a fun event.
While we have your attention, please mark your calendars for our annual Crazy Garage Sale, June 18 - 20. We have many folks selling their treasures and will be restocking daily! Stay tuned for more details.
The studio is always open Monday-Friday 12 to 5pm, and Saturday 12 to 4pm. If you're lucky, you might catch us making the goodies you have fallen in love with!