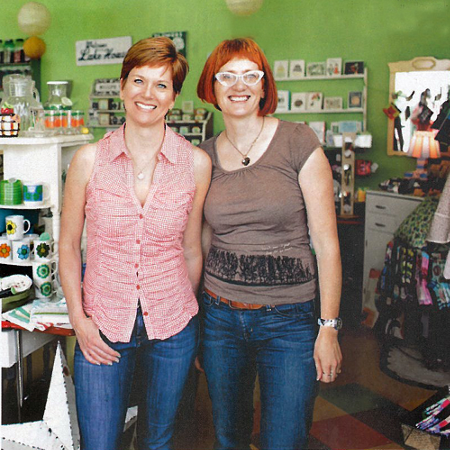 We are Anne and Siouxsan, better known as The Green Daffodil Girls. It all started when we imagined building a tunnel under the street to connect our houses....
Yes, we are best friends and have a slight obsession with quality candles, so we decided over 8 years ago to take on the task of developing a soy candle that smelled and burned just as it should, perfect! After loads of tedious testing we found success and Green Daffodil was born. From that point we have expanded into lip balm, soap, lotion, room mist, and unique gift sets, with more to come!
We are very proud to offer honest, handmade products that are good for both our families and our environment. We hand-pour all of our goods at our studio and scent them with either high quality essential oils or phthalate-free fragrance oils. We use lead-free cotton wicks in our candles, dried herbs for natural color in both our candles and bar soap, our lip balm has SPF 15, and our room mist is alcohol-free. Everything we create is paraben-free and vegan.
We truly know how lucky we are to do what we love and to bring health and happiness to our corner of the world. Our hope is for you to find Green Daffodil wares to be just as enjoyable as we do and to understand we are an everyday luxury.
Go Green Daffodil!
Anne Simonetti & Siouxsan Miller
Owners, Makers and Discriminating Sniffers