Gift Certificate - $50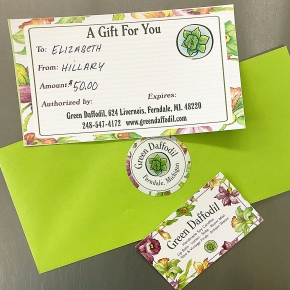 Scent/Description:
The gift certificate will expire one year from the issue date and can be used in our brick & mortar store or on-line. (For on-line redemption you need to enter the coupon code assigned to the the gift certificate, and you must use the whole amount in one purchase.)

We will leave the 'to' and 'from' sections blank for you to fill in, unless you'd like us to do it for you! If so, you can just leave us a note in the "message" box on checkout and we will do the magic for you! Also, if you'd like us to ship it directly to the recipient, that's fine too. Please be sure to give us their address if you'd prefer to do it this way. And tell us if you want a special note added.